Rhino Stealth White Milk Pitcher 12oz/360ml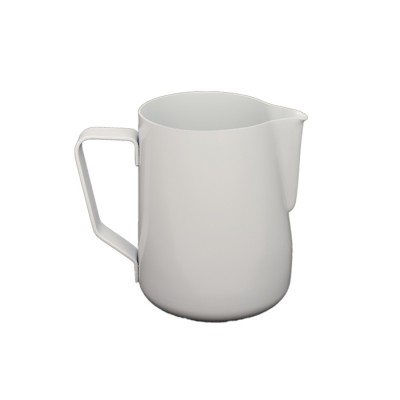 Rhino Stealth White Milk Pitcher 12oz/360ml
Brand

:

Rhino Coffee Gear
EAN

:

360ml
Color

:

White
Made of 1 mm thick stainless steel, covered with double layer of a black teflon pitcher is great for every café. The teflon coating reduces milk remains on the surface, which makes it easier to clean. Comfortable handle, elegant design, and practical pouring spout make it an ideal tool for every latte art lover. The Rhino Stealth Milk Pitcher range has been developed by people who understand the needs of the specialty coffee industry. Designed to be comfortable in the hand and incredibly durable, the Rhino Stealth Pitcher is a great choice for professional and home baristas. 
Features: 
- Premium Non-Stick Coating: With a non-stick and food safe double coating, this milk jug is durable and very easy to keep clean. 
- Stainless Steel Body: A 1mm thick food grade stainless steel body provides a longer stretch time for texturing milk. This is ideal for 360ml and 600ml (12oz and 20oz) sizes. This thicker grade steel also provides a great weight and professional feel. 
- Professional Spout: Designed for smooth pouring and latte art. 
- Comfortable Handle: Great for the busy barista! 
- Material: Stainless Steel 
Please Note: 
- Cleaning: It is not recommended that these non-stick pitchers be washed in the dishwasher. For best results and a longer surface life, avoid chemicals and clean with warm soapy water using a non-abrasive pad. Special milk cleaners such as Urnex Rinza make cleaning sticky milk very easy.
- Thermometers: It is not recommended that you use a metal thermometer with our Stealth Milk Pitchers as it may damage the coating. Instead, we recommend using the Rhino Accutemp Stick-on Thermometer. 
Check out these products: