Chemex Coffee Maker Glass Handle - 8 cups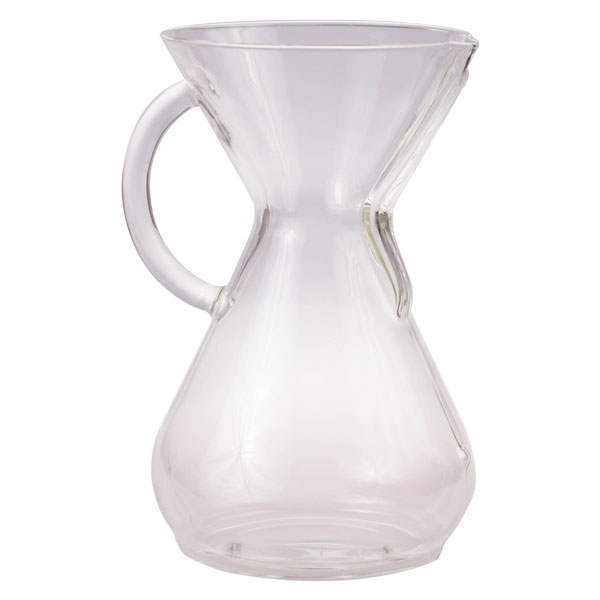 Chemex Coffee Maker Glass Handle - 8 cups
Using this model of Chemex Coffee Maker Glass Handle, you may prepare up to 8 cups of coffee at a time (1.2L capacity). 
Product Description 
Chemex Coffee Maker Glass Handle is a modified version of classic Chemex Coffee Maker, which was invented in 1941 by Dr. Peter Schlumbohm. The design was based on the experience gained by this talented chemist. This one-piece vessel with its hourglass shape is made of high-quality heat-resistant glass. In contrast to the classic version, the handle is also made of glass, which facilitates maintenance of the product. The glass that Chemex is made of does not absorb odours so it has no effect on the flavour of the brewed coffee. 
Made in the United States. 
Apart from functionality, Chemex distinguished by its amazing design. You may admire its visual elegance on permanent exhibition in New York's Museum of Modern Art. Additionally, it was selected by Illinois Institute of Technology as one of the 100 best-designed products of modern times. With Chemex Coffee Maker, brewing of your favourite coffee is really simple and takes 4 - 6 minutes. Besides Chemex, you just need paper filters and good coffee which must be poured over with water (6-7g of coffee per 100ml of water). 
Product Attributes 
EAN13: 028068001388 
Brand: Chemex 
Capacity: 1,2 l 
Height: 23,2 cm 
Diameter: 12,7 cm

Check out these products: