Comandante Polymer Bean Jar - Yellow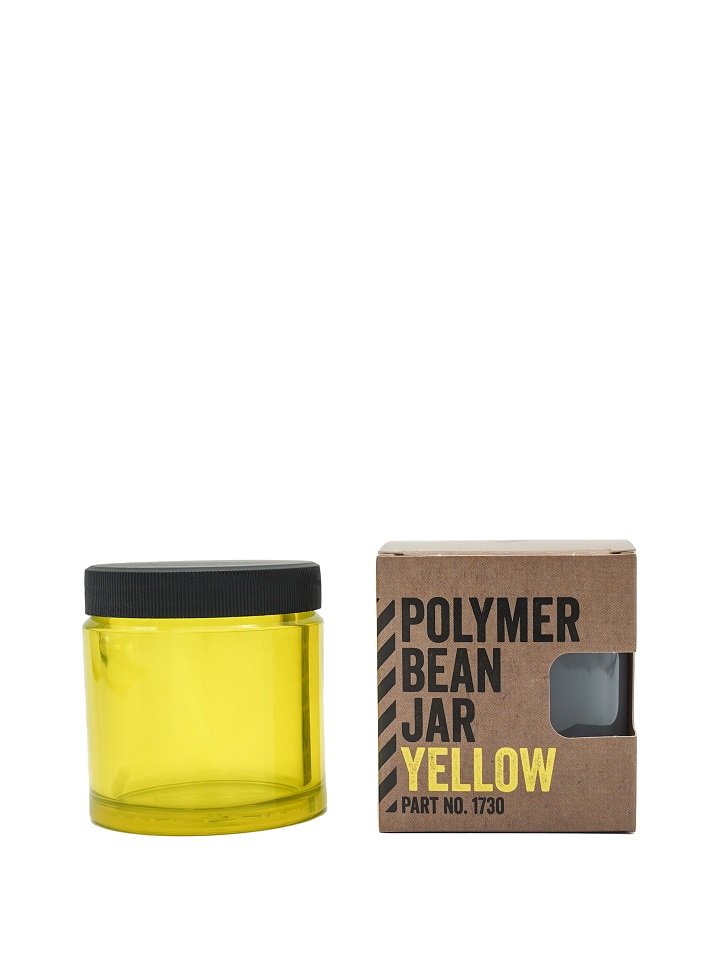 Comandante Polymer Bean Jar - Yellow
Brand

:

Comandante
Color

:

Yellow
The Polymer Bean Jar is a super food safe, robust, and versatile addition to your Comandante® C40 grinder — 100% compatible with all Comandante® C40 Mk3 and Mk4 models. Available in classic tones and various colours, choose your style!

Quick facts:
- Food safe, BPA-free, high-performance polymer
- 100% compatible with Comandante® C40 Mk3 and Mk4
- Perfect travel solution — lightweight & basically unbreakable, use as a cup
- Workflow advantages — uniform weight, smooth sidewalls, static chaff removal
- Multiple colours available - choose your style!
- Made in Germany
- Incl. packaging: 88g and 62x62x67mm

Contents:
- Polymer Bean Jar & Lid


Lightweight and basically unbreakable, the Polymer Bean Jar is the perfect travel solution. Use it to safely transport your beans, to hold your ground coffee, or even to drink your freshly brewed coffee from — its thick walls insulate the heat, keeping your coffee warmer for longer and your fingers safe.

The new design offers some great workflow advantages too. All Polymer Bean Jars are totally uniform in weight — ideal for pre-weighing multiple doses of coffee at home, at work, or at competitions. What's more, this high-performance polymer makes it easier to remove unwanted chaff from your ground coffee with the aid of static charge, improving cup quality. Finally, the super smooth and vertical sidewalls help with minimal retention of coffee grounds — less waste and faster when dosing into your brewer or portafilter.

Comandante® uses only BPA-free high-performance polymers that meet the strictest food-safety standards. Safe and gentle for you and your precious coffee beans, but engineered to be tough and robust and endure years of heavy use.

Made in Germany.


Beschreibung des Produkts:

Der Polymer Bean Jar ist eine perfekte lebensmittel sichere, robuste,
und vielseitig einsetzbare Ergänzung zu Ihrer Comandante® C40
Mühle - 100% kompatibel mit allen Comandante®
C40 Mk3 und Mk4 Modellen. Erhältlich in klassischen Tönen
und verschiedenen Farben, wählen Sie Ihren Stil!
Leicht und praktisch unzerbrechlich, ist der
Polymer Bean Jar die perfekte Lösung für unterwegs.

Sie können darin Ihre Bohnen sicher transportieren, Ihren gemahlenen Kaffee aufbewahren und, oder sogar Ihren frisch gebrühten Kaffee daraus trinken.

Die dicken Wände isolieren die Hitze, so dass der Kaffee länger warm bleibt,
und Ihre Finger sicher.

Das neue Design bietet zusätzlich einige große Vorteile für den Arbeitsablauf.
Alle Polymer Bean Jars haben ein einheitliches Gewicht - welches ideal für das Abwiegen mehrerer Dosen Kaffee
für zu Hause, bei der Arbeit oder bei Wettbewerben ist. Darüber hinaus erleichtert dieses Hochleistungspolymer
das Entfernen unerwünschter Spreu aus dem gemahlenen Kaffee mit Hilfe statischer Aufladung, was zusätzlich
die Tassenqualität Ihres Kaffees verbessert. Und schließlich tragen die superglatten und vertikalen Seitenwände zu,
weniger Abfall und einer schnelleren Dosierung in die Kaffeemaschine oder den Siebträger bei.
Comandante® verwendet ausschließlich BPA-freie Hochleistungspolymere, die den strengsten Lebensmittelsicherheits
Standards erfüllen. Sicher und schonend für Sie und Ihre wertvollen Kaffeebohnen, aber dennoch robust
dem jahrelangen Gebrauch standzuhalten. Hergestellt in Deutschland.
Schnelle Fakten:
- Lebensmittelecht, BPA-frei, Hochleistungspolymer
- 100% kompatibel mit Comandante® C40 Mk3 und Mk4
- Perfekte Reiselösung - leicht und praktisch unzerbrechlich, Verwendung als Becher
- Vorteile im Arbeitsablauf - gleichmäßiges Gewicht, glatte Seitenwände, Entfernung statischer Spreu
- Mehrere Farben erhältlich - wählen Sie Ihren Stil!
- Hergestellt in Deutschland
- Inklusive Verpackung: 88g und 62x62x67mm
Inhalt:
- Polymer Bohne Behälter & Deckel

Check out these products: