Atago PAL Coffee Refractometer (TDS)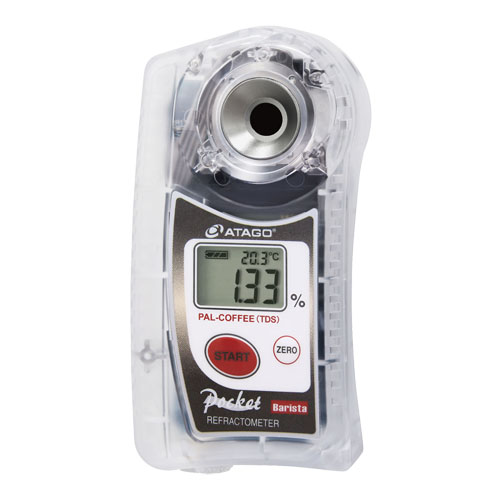 Atago PAL Coffee Refractometer (TDS)
Product information 
"ATAGO PAL-COFFEE (TDS)" For a barista, the refractometer is an essential tool in making the perfect cup of coffee. Making coffee is science. Isn't the coffee too weak or too strong, too bitter or too sour? Many factors play a role in the formation of taste: the amount of coffee, the grain size, the freshness, the water (hardness), the temperature, the contact time, etc. And yet we all want a nice bowl. By measuring the Brix value, which can determine the extraction rate, the refractometer gives an indication of the acidity/bitterness of coffee. This is a reliable way to reproduce the same taste. With the help of the ATAGO PAL-COFFEE (TDS) refractometer, the concentration (TDS) can be easily and accurately determined. A few drops of coffee on the prism and after starting can be read the value in seconds with two digits behind the comma. 
The PAL-COFFEE (TDS) is available in two other versions: Brix scale or TDS/Brix scale. 
For iOS users there is also a free app to download (MY COFFEE RECIPE-ATAGO). 
We will give you a free product instruction at Amsterdam Coffee Lab! Recommended add on products are: Pipets, alcohol wipes and distilled water drop bottle. When measuring a sample we obtain a precise number of solids dissolved in the prepared coffee (TDS). 
Meetbereik: TDS: 0.00 tot 22.00%(ATC) Resolutie: TDS: 0.01%/Temperatuur: 0.1°C Nauwkeurigheid TDS: ±0.10%/Temperatuur: ±1°C Automatische temperatuurcompensatie: 10 tot 100°C Merk Atago Gewicht 0.1000 KG Beschermklasse IP 65 Meetbereik 0.00 tot 22.00%(ATC) 
-Meetnauwkeurigheid ±0.10%/Temperatuur: ±1°C Resolutie 0.01%/
-Temperatuur: 0.1°C CONTENTS Body AAA alkaline battery × 
2 ■ SPEC Model PAL-COFFEE (TDS) Scale TDS 
-Measurement Range Temperature  TDS: 0.00 to 22.00% Temperature : 10.0 to 100゚C 
-Resolution TDS : 0.01%  , Temperature : 0.1゚C 
-Measurement Accuracy TDS : ±0.15% ,Temperature :±1゚C 
-Temperature compensation range 10 to 100゚C 
Ambient Temperature 10 to 40゚C 
-Sample Volume At least 0.3mL 
-Measurement Time Approx. 5 seconds, 120 seconds of continuous measurement 
-Power Supply Two (2) AAA alkaline batteries 
-Battery Life Approx. 11,000 times measurement (when alkaline batteries are used) 
-International Protection Class IP65 Dust-tight and Protected against water jets 
-Dimensions & Weight 55 (W) x 31 (D) x 109 (H)mm,100g (main unit only)

Check out these products: