Hario - Cha Cha Drip Bouquet 02 White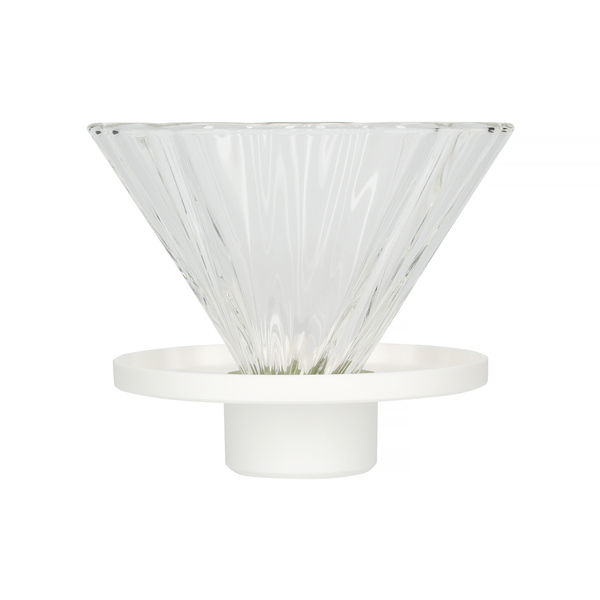 Hario - Cha Cha Drip Bouquet 02 White
Brand

:

Hario
Material

:

Glass
Hario Cha Cha Drip Bouquet is a dripper for tea-brewing. It is easy to use, allows you to brew a clear brew in preferend amount, and its unique form will satisfy the most demanding tastes.
Product Description


Unique design

Cha Cha Bouquet was inspired by the classic Hario V60 coffee dripper - a glass cone with wavy walls is embedded in a silicone holder and a silicone base. As Hario is known for the production of high-quality glass, you can be sure of a unique form and precision of workmanship. The glass element is produced in Japan, while the holder and base are made in China.


Simple use

To brew tea, just place the dripper with a paper filter on the selected vessel, pour the loose tea inside and hot water over it. The dripper is compatible with Hario V60-02 conical filters. The advantage of the paper filter is that the brew is free of tea residue. The dripper fits on cups and various sizes of jugs, thanks to which you can brew one or several portions of tea depending on your preferences. It is also easy to clean, as the dripper is dishwasher safe. 


Flow regulation

Cha Cha Bouguet also allows you to control the flow of water, thanks to which you can easily adjust the tea brewing time. The dripper holder and the base have two holes each - depending on how you set them in relation to each other, the infusion will either flow out of the dripper or remain in it. To change the setting, just turn the dripper.
 
Check out these products: