Clean Express - cleaning product for espresso machines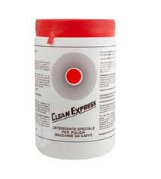 Clean Express - cleaning product for espresso machines
Dit is ontvetter in poedervorm. Poeder lost sneller op en is daarom effectiever. Ook de samenstelling is iets scherper, waardoor het reinigende effect beter is. Is onze vervanger van de Jo Glo. 
Let er bij een volautomatische koffiemachine op dat het reservoir droog is, zodat het poeder niet aan de wanden blijft plakken. 
Ook in tabletvorm verkrijgbaar.  
Check out our other protective, disinfectant and cleaning products. Contact us for professional disinfection services, alternative workflow design, risk assessments and management. 
We are very experienced with HACCP & HARPC policy design, execution and compliance.

Check out these products: