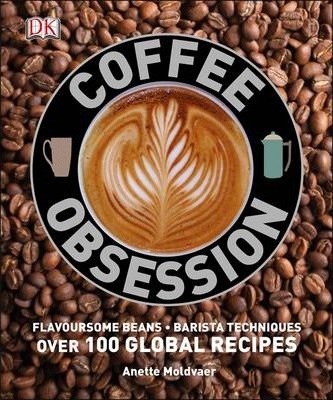 Perfect your barista technique with over 100 global coffee recipes from chai coffee to ristretto Take a journey from bean to cup with Coffee Obsession, which shows you how to make iconic coffees through step-by-step barista training. From the techniques of roasting, grinding, tamping and brewing to how to make a cappuccino, via the history of coffee, you'll learn everything you need to know to make the perfect coffee and about the beauty of latte art. Over 100 coffee recipes include brews to suit every taste. Master classic favourites like the flat white and the espresso, and learn how to make iced coffee and the perfect chai coffee. From French presses to cloth brewers you'll explore all the different equipment you need to create fantastically flavoured coffee, along with a guide through the flavour wheel and "cupping" tasting notes. After you've brewed yourself the perfect cup, go on a voyage through the life of a coffee bean and learn the ideal harvest seasons and roasts of different types of coffee beans, all combined with mouth-watering flavour profiles. Coffee Obsession is perfect for coffee lovers who want to make the best cup of coffee in the world in their own home. 
Product details Format Hardback | 224 pages 
Dimensions 203 x 236 x 21mm | 880g 
Publication date 01 Jul 2014 Publisher Dorling Kindersley Ltd Imprint DK Publication 
City/Country London, United Kingdom Language English Edition Statement UK ed. Illustrations note w. col. ill. 
ISBN10 1409354687 
ISBN13 9781409354680 
Bestsellers rank 73,786

Check out these products: