teapigs Mao Feng Green Tea - 50 Tea Bags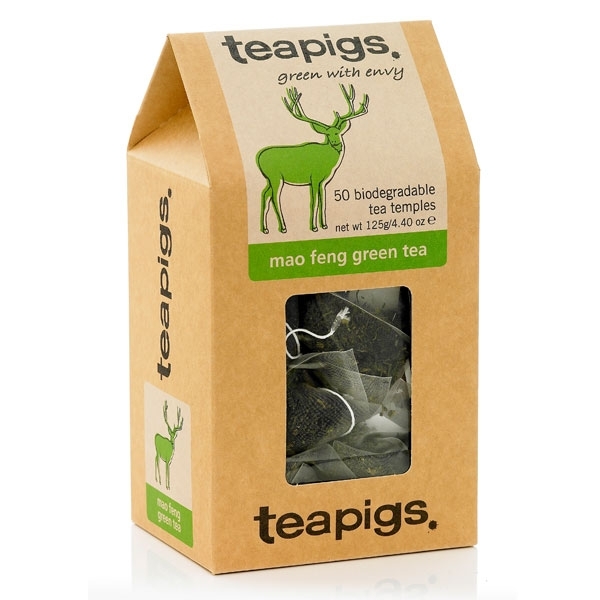 teapigs Mao Feng Green Tea - 50 Tea Bags
Brand

:

Teapigs
EAN

:

5060136753039
Package

:

50 bags
This green tea is one of a kind in the tea market. Even people who don't like green teas will enjoy it. 
Product Description 
There's a fascinating story behind this tea. It's about love of two people working at the tea plantation. The owner of the plantation was well-known of his cruelness. The girl managed to escape the plantation; however, when the owner found out about it he killed her fiancé. When the girl found out about it she cried so much and so long so that she became a rain cloud and the body of her lover turned into a tea bush. The legend explains why in the Mao Feng region tea grows in a very humid climate all year long. 
Origin: Anhui Province, China 
How does it taste? This tea has a delicate natural taste of peaches and apricots. A lovely clear pale green infusion. 
Drink it when you need a make-over. Can't afford rehab, liposuction or Botox? Why not settle for a nice cuppa? You may have heard about the many reputed benefits of drinking green tea, ranging from weight loss to anti-ageing. A nice cup of tea sounds definitely more fun than cosmetic surgery!! 
Contains natural caffeine. Remember, no cheap tea powder will ever offer you such taste experiences as teas with selected whole leaves 
Preparation:
Infuse in hot water. 1 tea bag per person, brew for 3 minutes. 
How we like it? As it is - no need for anything else; short-brewed, preferably in your favourite mug or a fancy cup. 
Product Attributes 
Expiration date: 03.02.2025 
EAN13: 5060136753039 
Brand: teapigs 
Tea type: green 
Loose tea / Tea bags: in bags 
Package: 50 Tea Bags

Check out these products: